Danger Dolan is one of the main characters in the online video series Planet Dolan and Super Planet Dolan. He is based off the meme "Dolan Duck".
Appearance
Danger Dolan is a completely white man who only wears a blue beret, the same one dolan duck wears. His pupils typically have no color, but this is different depending on the animator.
Personality
Dolan is very dimwitted, as he explains things in the most outlandish ways. He is also very arrogant and often puts down his own friends for supposedly being stupider than he is.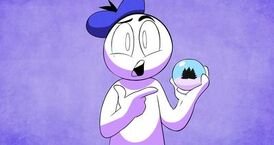 Ad blocker interference detected!
Wikia is a free-to-use site that makes money from advertising. We have a modified experience for viewers using ad blockers

Wikia is not accessible if you've made further modifications. Remove the custom ad blocker rule(s) and the page will load as expected.